Vacation - Day 5: Shopping, More Beach and Another Boat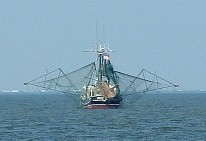 (There seems to be a boat theme happening here but, given where we're staying, I suppose it can't be helped.)
Today we went into downtown Fairhope to just kill some time.
It's filled with loads of little specialty shops, art galleries, cafes and the like. It's quite quaint and seriously overpriced, but it was fun to wander through for a while. If you're ever in the area, though, you've got to go into Three Georges Chocolates, especially if you like malted milk balls. They're pricey but they put Whoppers to shame - as big as your eyeball and with enough chocolate on them to choke an Oompa-Loompa. Fabulous.
We grabbed an early lunch and went down to the Bay.
The city has taken a pretty long stretch of beachfront and made it into a park area. There are picnic tables scattered throughout the trees, they've put in some playground equipment and generally keep it looking quite nice. It's a much nicer part of the Bay than we were in the other day. We're told that it's virtually packed on the weekends. We just wanted some quick water time. The Things had their swimsuits on under their clothes so they played in the water while SWMBO & I waded along the shoreline. I love watching them run around and be kids, getting extreme enjoyment out of things that most adults have long since written off. They grow up fast enough and I intend to encourage them to hold onto their childhood as long as they can.
Eventually we had to pack it in and head back to the boat. Al & Jamie met us there in the early afternoon and Al cranked up the boat. We untied and headed into Mobile Bay.
First a little about the boat itself.
It's a 48-foot houseboat called the Monkey Bizness. It has a basically full kitchen, one large bedroom, one half-height bedroom where the Things slept and 1 1/2 bathrooms. Granted everything is scaled down somewhat (it is only 12 feet wide or so, after all) but it was quite comfortable. It has a pull out couch so you could feasibly sleep 6 people on it. Here's a shot of the bridge area which includes a GPS unit that'd make Dr. Bacchus break out in a cold sweat.
It's so wonderfully relaxing to wake up early and sit on the rear deck with a cup of coffee watching the activity around the marina and listening to the sounds of the pelicans and seagulls.
The ride across the Bay was great. Once in Mobile we headed up the river and saw some of the shipyards, barges, and ports. I wish I had gotten some more pictures of that part of the trip. We passed a couple huge cargo ships and saw a couple more in dry dock. It's amazing to me that you can get those big things out of the water like that. It was a fun time and, most importantly, SWMBO and the Things had fun.
Tomorrow, back to the Gulf for some more beach time.