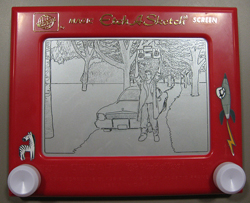 This stuff sure beats the hell out of the innumerable sets of stairs and lousy attempts at words that I did when I was a kid.
Kudos for this guy for taking the time to work this stuff out. Or maybe he just needs a date...
[And yes - I stole the headline off his site. Sue me...]
Comments
Recent Etch-a-Sketch sighting
November 27, 2007
|
Annie
Have you ever seen the movie Elf? There is an Etching of the Mona Lisa hanging on a Christmas tree in the store where Buddy 'works'. If you haven't seen it I highly recommend it. The movie. Not the Mona Lisa.
---
Elf is great!
November 27, 2007
|
phydeaux
"Hello. Buddy, the elf. What's your favorite color?" My girls love this movie and forced me to watch it a couple years ago. Now I force them to. (OK - not really - but you get the point.) I really like Will Ferrell in his more understated roles (if you haven't seen Stranger Than Fiction, you really need to. I'm not so much a fan of his (sadly more common) over-the-top, caricature-ish roles (Anchorman, Talladega Nights, Blades of Glory, etc). But Elf is a case where caricature was exactly what was called for and worked quite well. And even then, I don't think it was overplayed. A very good movie. In fact, we'll probably be watching it this weekend sometime. That is, if I can convince my girls to let me. :-)
---